Yes, of course, true beauty is most potent when it radiates from within. But isn't it lovely when you can look it in its captivating, artful eyes? Happily, a storied Parisian beauty brand lets you do both.
Officine Universelle Buly 1803, named after the year it was first established, creates nature-based formulas across candles, body lotions, rose waters and perfumes. Products are meltingly textured and delicately scented with evocative narratives from the original catalogue – heavenly for smell and touch.
Most recently, you might've heard of them through a medium that relies on another sense entirely: sight, as Buly 1803 went viral on Tiktok and Instagram this year. Until a few months ago, the brand was a best kept secret amongst tastemakers and aesthetes such as chef and artist Laila Gohar, who wears the brand's Eau Triple Peruvian Heliotrope Perfume and model Caroline de Maigret, who favours the apricot kernel oil.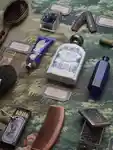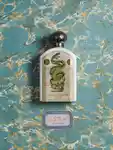 Victoire de Taillac met Ramdam Touhami in 1997, while the latter was running one of France's first concept stores, L'Épicerie (which he opened with designer Jeremy Scott) and the former was head of public relations at the now shuttered Parisian fashion institution Colette. In 2005, Touhami was tasked with reawakening Cire Trudon, a 17th-century candlemaker that once produced wax creations for the likes of Marie Antoinette.
Seven years later, the now husband and wife duo was brought on to breathe new life into Officine Universelle Buly 1803, an apothecary on Rue Saint Honoré named after Jean-Vincent Bully, who patented a recipe for a vinegar-based fragrance that transformed beauty care in the early 19th century. (For history buffs, Bully's vinegar solution was responsible for clearing up the skin of Napoleon Bonaparte's wife, Empress Josephine.)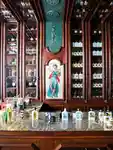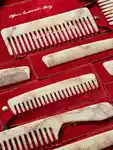 Touhami and De Taillac relaunched the brand by revisiting its original product catalogue and bringing it to new life in their first boutique on Paris' the Rive Gauche in 2014. The dispensary, offering products both humble and precious, sits in the space somewhere between 'natural ingredients from ancient recipes' and functional beauty objects.
"We saw the [original Buly 1803] catalogue of the 18th century and it was these beautiful objects and names of products, like Huile Antique (antique oil) or Lait Virginale (virginal milk). It was very charming and a very different universe," explains de Taillac from the Buly 1803 head office in Paris' Saint Germain region, a few streets from the first boutique.
"This is what appealed to Ramdam and I, in terms of style. Maximalism is something that we like. We saw that with this; you could have a beautiful product in your bathroom with a very distinct aesthetic, which is obviously very French and very European of another era, and we thought that was very seductive."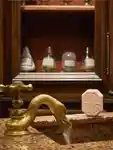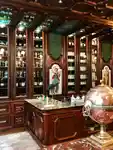 The Buly 1803 products and spaces are designed to revive the original system of beauty stores and apothecaries, crafted from a carefully curated selection of about 30 plant oils and botanical powder clays. The visual codes pay homage to the Golden Age, where every element is exacted and artful in a delightful departure from contemporary minimalism, especially that which we so often see in our beauty cabinets.

For us, the object is as important as the contents.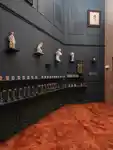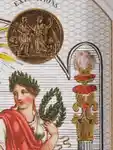 The brand adorns its offerings with intricate mythological and natural motifs, fashioning them from a tapestry of materials including painted glass, ceramics, marble and vegetal leather which is customised in store through bespoke monograms for clients. It's a rich, opulent aesthetic that saw the brand collaborating with the likes of Paris' Musée du Louvre, (the only fragrance brand in history to ever be invited to do so) to create a series of fragrances inspired by major works. Similarly, the luxury five-star Hotel de Crillon that holds court on Place de Concorde decorates its rooms with Buly 1803 products, in case you ever wanted to know how to level up your bathroom at home.
"For us, we thought it was really interesting that most of the perfume and beauty brands are into design in terms of functionality, but they weren't [so focused] on aesthetics. For us, the object is as important as the contents."
Hero image credit: Yann Moszyński