Working in beauty, my personal fragrance collection is robust (a quick headcount shows 32 bottles currently sitting on my dresser). But scent is my thing; I'm deeply invested in the perfumes I wear, and love connecting them to special occasions.
And no occasion feels more special than my upcoming wedding, so it made a lot of sense to head in-store to try out MECCA's Wedding Fragrance Consultation! Given I already have a lot of fragrances, I wanted something unique, and most importantly memorable; all qualities best entrusted to an expert. Because scent is very closely linked to memory, I also wanted something that would become a bit of a 'time capsule' – a fragrance I could spritz years down the track and be instantly transported (romantic, I know).
Turns out, the process was as enjoyable as I had hoped. Read on for just how it went down, and *the* perfumes my fiancé and I settled on.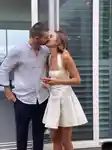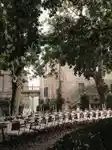 Inspiration for Algar's wedding guides her fragrance consultation
The MECCA Wedding Fragrance Consultation is like a guided tour through the incredible in-store perfume offering. The session was led by Fragrance Specialist Lenara, who started by asking me what I wear day-to-day (Music For A While, Rose & Cuir and Portrait of a Lady from Editions de Parfums by Frédéric Malle, Le Labo's The Noir 29 and Bal d'Afrique by Byredo, for those playing at home).
We also discussed some finer details: when is the wedding? What's the overall styling? What sort of dress am I wearing? And did I care about the way the bottle looked?
We then went through individual categories, as per Michael Edwards' Fragrance Wheel, sampling everything from fresh citrus to dry leather. I scored them from one to five, narrowing my favourites down to rose, amber, woody amber, woody and leather. I've always preferred punchy, slightly masculine scents, so the results weren't too surprising! With that being said, I wanted something feminine for my wedding day – and while I wanted it to last, I didn't want anything too heavy or cloying, as our date falls in the middle of Sydney summer.
My fiancé, Andrew, also has great taste in fragrance but wasn't too sure what he liked, categorically speaking. In the end, he also loved warm, woody, musky or green scents.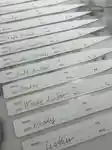 "The MECCA Wedding Fragrance Consultation is like a guided tour through the incredible in-store scent offering. "
- Emily Algar
Options, options, options!
Once we narrowed down categories, Lenara chose five perfumes for me that fit the bill:
I loved them all, but opted to try Orphéon, Eau Rose and Musc Ravageur on my skin. This is an essential step, as often perfumes diffuse differently when they mingle with our skin's pH. Also, Lenara made a point that it's important to analyse a fragrance once the top notes have worn off to experience it fully.
After much sniffing, deliberation and input from all parties (myself, Andrew and Lenara included), I landed on Musc Ravageur. I'm a big Frédéric Malle fan, and Musc Ravageur hit every note: it was new to me, sensual, and made an impression but wasn't too 'loud'. With notes like bergamot, lavender, patchouli, amber, sandalwood and musk, it's sexy but not sweet or fluffy, and I loved that it had a skin-like quality. I'm already dying to wear it but have promised myself I'll wait until the big day!
Andrew, on the other hand, was more relaxed with his decision-making process. We unanimously loved the single-note Escentric Molecules Molecule 01, Comme des Garçons Wonderwood EDP and Tom Ford Ombré Leather. While there was no 'bad' choice, Wonderwood stood out as a winner. It was distinctive but not overbearing; also, the vegetal facet felt fitting for summer. Bring on the wedding!