There are two types of people in the fragrance world: those who commit to the single signature scent, and those who believe in the freedom of the fragrance wardrobe. Both have their merits, but it's the latter that Sharon Neale, MECCA's Head of Fragrance, Hair and Body, firmly identifies with – favouring a curation of scents that serve to elevate different occasions, moods, seasons, or times of the day (and night).
Having worked alongside some of the biggest fragrance houses in the world – immersing herself in their rich history and learning first-hand about the granular considerations that go into developing scents – it was only to be expected that Neale became a self-professed 'fragrance fanatic'.
All that considered, it comes as no surprise to hear her wax poetic about the transportive power of scent: "One of the things I love most about fragrance is how it's so transformative and can take you to a place, a memory or a feeling," she tells us.
It makes sense, then, that she won't limit herself to a solo scent; sure, she has her staples – "My usual scent is generally a fresh and bright fragrance – I love scents that lift my mood as soon as I spritz" – but she doesn't get into the habit of playing favourites.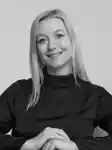 "I really don't believe in 'the one' signature scent. At home, I have a large wardrobe of fragrances, each of which make me feel a certain way," she explains. As she dresses each day, Neale carefully considers which one she'll wear: "In the same way that we mix up our style, I believe in matching our fragrance to our mood – or to the mood we want to feel."
And just as you would chop and change different pieces in your closet to create new looks, Neale adopts the same approach when it comes to scent. "I layer fragrances by spraying them on different pulse points, creating something that feels more unique to me," she reveals.
It's an approach she's happy to share with MECCA's community of beauty lovers – "I would love for everyone to feel courageous and mix up their own scent style" – and so, when she agreed to share all her olfactory wisdom, we were thrilled.
Below, you'll find five of Neale's all-time favourite fragrances – think of them as the anchor pieces of her fragrance wardrobe – perfect to explore and inspire you as you build your own!
Maison Francis Kurkdjian




Gentle Fluidity Silver EDP
"
Francis Kurkdjian
embodies the connection between fragrance and fashion – he originally trained as a [fashion] couturier before moving into some of the world's biggest fragrances houses as a nose. This scent has a 'sister' fragrance too,
Gentle Fluidity Gold EDP
; both have the same notes and ingredients, but slightly different formulations, which lead to two totally different scent profiles. We often recommend this pairing to couples as they complement each other perfectly!"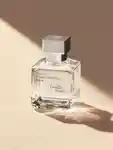 Editions De Parfums By Frédéric Malle




Portrait of a Lady EDP
"
Frédéric Malle
is a genius, and for me, embodies the perfection of the French perfumer. The best 'noses' in the world are recruited by the house to create the perfect scent without any limitation to the brief or budget – and the results are always incredible.
Portrait of a Lady
was born from Dominique Ropion's genius, and is a warm and amber-hued fragrance which has a beautifully romantic, but intense, feeling."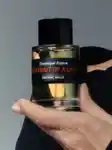 "
D.S. & DURGA
epitomises the modern immersive approach to fragrance, combining incredible scent profiles and musical inspiration. Absolute perfection!
Debaser
is an endlessly optimistic combination of green leaves, fig and white musk. This fragrance always makes me smile when I wear it."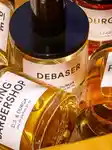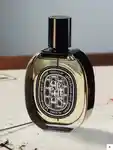 Escentric Molecules
Molecule 01 EDT
"
Molecule 01
is the ultimate beauty experiment. This fragrance – founded by the genius that is Geza Schon – has just one ingredient: the aroma molecule Iso E Super. This fragrance responds to your own skin scent, meaning that you yourself cannot smell it – but to others, it's irresistible! It also acts as the perfect layering fragrance [with other scents], meaning you can mix up your style by using this as a base."