I'm almost certain I'm not alone when I say that my personal fragrance journey began in tween-hood as a spin-off to my all-consuming early 2000s celebrity obsession.
It started with the Spice Girls aerosol body mists I sprayed so incessantly, there's a chance I'm partially responsible for the hole in the ozone. Then came my first real bottle of perfume: Britney Spears' bedazzled gourmand, 'Fantasy'.
I smelt like a vanilla cupcake with a maraschino cherry on top. Though almost two decades later my tastes have changed – and the closest I get to buttercream is Diptyque's Eau Duelle EDP, a deep, patchouli-spiked vanilla – it tickles me pink to see the return of the gourmand fragrance, and a new wave of tweens falling in love with saccharine scents in a time of Barbie reign, Taylor Swift supremacy and Matildas cheer.

As the timespan between womb-mate and beauty obsessive decreases at pace (and I find a new spot to hide my
Drunk Elephant
skincare from my little cousins), Generation Alpha – born from 2010 onwards – know what they want when it comes to fragrance. Beauty brands are the new celebrities and the launch of a
Sol de Janeiro
mist at MECCA sparks the equivalent dopamine release I would experience lining up for an S Club 7 single at the late Sanity music store. So, I enlisted the help of school-yard insider 11-year-old Evie to make sure my top recommendations for starter scents and first-time fragrances were on the mark.
Body mist mania
Lighter in concentration, wear and cost, body mists are the perfect introduction to scent for first-timers. A huddle of tweenagers is a regular installation at the Sol de Janeiro shelf during school holidays, and according to Evie, who wears the Brazilian Crush Cheirosa 62 Perfume Mist "all day every day", the pink-bottled, floral-leaning Cheirosa 68 varietal is the most-wanted gift at every birthday bash.
Also on the rotation are Soap & Glory's Smoothie Star and Call of Fruity mists, which make for the perfect pocket money splurge. Or for something a little fresher and more 'grown-up' (less cupcake, more fruit punch), my picks would have to be Ellis Brooklyn's summer-inspired 'Sea' and 'Sun' mists.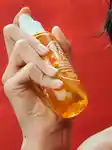 Patisserie-inspired perfumes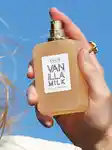 Things that just smell good
The smell of teen spirit is changing. "We just want to smell good," says my inside source, who might never have to experience
eau de school bus
in the way I did. It's not just about the mist, or the perfume, I'm told – it's scented everything.
Glow Recipe's
collection of Watermelon-scented skincare is as popular as can be, flavoured
Lanolips
lip balms are the new
smackers
, and fruity body washes and lotions are having a real moment. These kids are clued-up, and the awkward stage really might be a thing of the past.