With more of us choosing to go for grey, we've curated our top tips for navigating the colour and texture changes grey hair brings.
From nourishing treatments that balance sebum depletion to tried and tested toners to keep white hair bright – here's everything you need to know.
In the same way our collagen production slows in our late twenties (causing our skin to feel less plump and more prone to fine lines), come our thirties, the same happens with our melanin production. Melanin is the pigment that gives hair its colour, meaning that as it is depleted, our hair begins to slowly turn white, silver or grey. Genetics are the primary decider of when — and how — hair turns grey, although it can also be affected by other factors like stress.
The texture change explained – and how to care for it
While grey hair may feel coarser than its predecessor, it's actually physically finer; the lack of melanin and the reduction of sebum that comes along with ageing can cause it to feel dry, wiry and sometimes even brittle.
This can cause your hair to appear dull and somewhat lifeless at times – but with the right products and some extra TLC, you can add back some of its former shine. As your oil glands generate less sebum – which helps to moisturise both the skin and hair – it's important to keep drier follicles nourished with richer shampoos, masks, conditioners and leave-ins that bring back the moisture you might've lost over time.
It might take a little extra work, but the resulting smooth, shiny, extra-luscious silver-grey hair is worth it!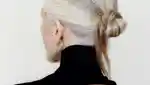 What to do if the sun yellows your hair
Light grey hair tends to yellow in the sun, acting as a friendly reminder to pop on a hat when you step outdoors for extended periods. Should the sun treat your hair to an unsolicited tint, purple shampoos and conditioners – the same used to neutralise brassy blonde tones – help to tone away yellowness, returning your hair to its original grey glory. Just don't leave them on for too long, or you might end up with a (temporary) wash of purple!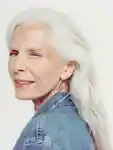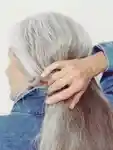 Our final piece of advice…
Lighter, drier hair can lack shine due to its lessened ability to reflect light. A pointed focus on moisturising, smoothing, toning and glossing treatments will help to keep your grey lengths looking great and feeling great.