Say it with us: hair maketh the man.
As many a TikTok video has proved, how you cut and style your crowning glory can make a truly incredible difference to your appearance; like a follicular magic wand, the barber's scissors have a remarkable ability to transform both your look and your confidence.
By the same token, a terrible cut can have the opposite effect – and we've all walked out of the salon or the barbershop with an absolute atrocity atop our heads.
"I've gone through some terrible haircuts in my life!" laughs Miles Wood-Smith, master barber at Murdock Barbers of London's Covent Garden, who we tapped to let us know the latest trends in men's hair. "I think looking back and laughing at your old styles is a great thing – it's all part of your journey to the perfect cut," he adds.
Tired of the same cut you've had since you were 15? Ready to try something a little bolder for the new season? Here are the most popular styles Wood-Smith's been cutting of late, as well as his men's grooming and haircare essentials.
What are some of the major trends you've noticed with men's hair this year?
MW-S: "I think a lot of our clients grew their hair out longer over the last few years; lockdowns and working from home meant they could get through the 'awkward stage' of hair growth a bit more easily. What we're seeing now is a return of the mullet – I'm even growing one out myself!
"Some clients are sick of the long hair, but they don't want to just go back to their previous haircut, so I think they're being more daring and maybe stepping out of their comfort zones a bit more. We're definitely seeing clients take more risks with their hair, going shorter on the sides or a bit crazier on the top."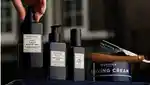 What are the top men's haircare products you'd consider a necessity?
MW-S: "This is a great question because we have so many different hair types coming into our shop, and we try to make sure we have a perfect solution for everyone. We've seen a huge spike in guys with long hair and with it, a huge interest in products that will help with the styling issues that come with longer hair.
"I personally always suggest Sea Salt Spray – it's our number-one hair product for a reason; it's so easy to use and adds so much to any haircut – and Hair Play. Hair Play is one of our most versatile products; it has a light, almost moisturiser-like texture that means it can be worked through longer hair easily. It gives our clients a bit of control over their longer locks without drowning them in product.
"In terms of curly and Afro-textured hair, we have products that are effective, but we wanted a range specifically tailored to that hair type. So, we are working on one! Our textured hair range is dropping early next year and will include hair cream and hair oil designed for curly, Afro-textured hair."
You can always tell a quality haircut by the back of the neck; your client can't see it, but everyone else can, so it needs to be treated with the same care and quality as the rest of the cut!
What's the biggest mistake you see men making when it comes to their hair?
MW-S: "Honestly, I could go on about this stuff for days, but I'll try and keep it concise. I see so many men using too much product; if you use a primer like Sea Salt Spray before a wax or gel, then you only need a small amount to keep your style in place.
"I also definitely see men with short styles, but they haven't had the back of their neck tapered – this means that even after a week or two it looks messy and overgrown! You can always tell a quality haircut by the back of the neck; your client can't see it, but everyone else can, so it needs to be treated with the same care and quality as the rest of the cut!
"Another issue is confidence. I think there's a lot of guys that think, oh, that's cool but I can't pull it off (in terms of haircuts they like). Honestly, most guys can pull off most haircuts (within reason)! Any barber who cares about their craft will be able to tailor haircuts to the person sitting in the chair. I always say, try whatever you want – pulling off a haircut just means you love your style!"

What's your personal favourite product from murdock barbers of london?
MW-S:
"I
love
the
Beard Moisturiser
. I need it every day – I just don't feel right without my beard feeling soft and my skin feeling moisturised! The
Sea Salt Paste
has become a favourite lately. I recently cut my long hair off because my younger sister said I looked like a 'TikTok boy'; I'm in my thirties and this is not the review I wanted [laughs]! So, with my shorter hair, I use Sea Salt Paste to give me an insane amount of texture but no shine."