In honour of the newly refreshed MECCA Jewellery space at our George Street flagship, we spoke with Paris-based creative director Charlotte Chesnais, whose namesake line debuts exclusively in Australia at MECCA in December 2022.
Charlotte Chesnais has an interesting take on fragrance — she doesn't wear any. Instead, her life partner (with whom Chesnais shares three children and their jewellery business) spritzes on Frédéric Malle's Cologne Indelebile (Chesnais' favourite scent), allowing her to enjoy the heady notes of musk, bergamot and orange blossom from afar.
Chesnais' unique approach to fragrance isn't unusual for her; in fact, it's indicative of the process she employs when designing her namesake jewellery line. Since 2015, when Chesnais launched her label after spending years working as a designer at Balenciaga alongside Nicolas Ghesquière, she has set out to create jewellery that is more wearable sculpture than fashionable accessory.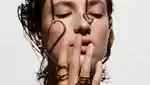 I don't have a traditional creative process when I begin to create my pieces…I take inspiration from art, sculpture, and everyday objects.
"I'm obsessed with well-balanced design," she told MECCA from her light-filled studio in Paris. "I don't have a traditional creative process when I begin to create my pieces, and I don't do a moodboard. I take inspiration from art, sculpture, and everyday objects."
Among them, the works of iconic 20th century furniture and interior designer Pierre Paulin, carpenter and furniture maker Pierre Chapo and functional design architect Charlotte Perriand.
Chesnais' designs have quickly become cult-favourites around the world. Her sculptural rings, earrings and necklaces twist and loop around hands, ears and necks to create unique shapes that seem almost like wearable installations. They're unconventional and beautiful, seeming to transform depending on how each wearer styles them.
"I don't have any rules and I don't like to give rules," says Chesnais. "And personally, I'm such a minimalist. It's the same with my home and the way I dress; I'm more into curation, and I love to see how other people style and wear my jewellery."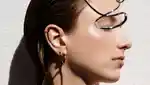 Minimalism extends to Chesnais' beauty routine, too. "I don't wear any makeup," the designer – whose skin appears flawless – reveals, adding, "Even if I wear mascara, I have to take it off." Instead, she focuses on her skin, investing in moisturisers, having deep-clean facials every two months and dipping her toe into the world of skincare devices.
"I just got an electric, heated gua sha tool that vibrates. I use it for five minutes on each side of my face and am seeing great results," she told us. "I think tools make me more excited than lotions!"
When it comes to her beauty cabinet, Chesnais sticks to tried-and-true French pharmacy staples (her father owned a small, local pharmacy where Chesnais spent hours pulling creams off shelves to try them) and she credits Corpus Naturals' iconic deodorant and cleansing bar: "I love everything about this brand," she says.
"Design is so important to me; I can't stand to have ugly products! I love the colour and the shape of these products, they're so beautiful."
Discover Charlotte Chesnais creative universe in-store at MECCA George Street or book your personalised Ccompass styling session.