Why your microbiome is the next big thing in skin
January 1 | 69 minute listen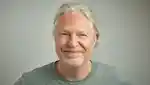 Hosted by Kate Blythe & Zara Wong
Originally published on | March 23
Welcome back to MECCA Talks, your access all areas pass to the beauty, business, and lifestyle experts we call our community.
Pre, pro and post-biotic extracts are increasingly appearing on the ingredient lists of new skincare formulas, so we've got MECCA skincare expert Lucy Shaw and Cultured founder Rob Calcraft on the podcast to tell us why.
First, Lucy gives us the lingo low-down on all things microbiome; she explains what the term 'skin barrier' actually means, how the probiotics in our skincare differ to those in our yoghurt, and why we should start thinking about our skin as an 'ecosystem'.
Then, Rob – who also co-founded REN Clean Skincare – chats to Kate and Zara about his journey into (and out of, and back into) skincare following a new-found fixation on the microbiome, in what might be our most hilarious and scintillating conversation yet.