The beauty of Australia, vintage fashion and creativity with Jenny Kee
January 1 | 26 minute listen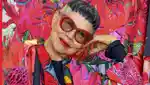 Hosted By Kate Blythe & Zara Wong
Originally published on | December 15
Welcome back to MECCA Talks, your access all areas pass to the beauty, business, and lifestyle experts we call our community.
In our final Holiday bonus episode, Kate and Zara chat to inimitable fashion designer, creative and MECCA Collectiva tastemaker Jenny Kee in celebration of the natural beauty of the Australian landscape – and Kee's prolific career in fashion.
From selling £10 vintage Chanel to the likes of Mick Jagger in London's swinging '60s to collaborating with Karl Lagerfeld, starting Flamingo Park with Linda Jackson and having her designs worn (and loved) by Diana, Princess of Wales, Kee's anecdotes make for an episode.