Julia Busuttil Nishimura on food, beauty and becoming a household name
January 1 | 38 minute listen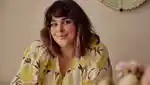 Special Guest: Julia Busuttil Nishimura
Hosted by: Kate Blythe & Zara Wong
Originally published on | January 5
Welcome back to MECCA Talks, your access all areas pass to the beauty, business, and lifestyle experts we call our community.
In this episode, Zara makes a special guest visit from maternity leave to join Kate in the studio for a chat with bestselling author, cook and columnist Julia Busuttil Nishimura.
Also known as Julia Ostro, the Nigella-approved cook shares her ethos of simple ingredients, seasonal produce and the joy of coming together at the table, her love of beauty (and anything recommended to her at MECCA), her little-known tennis obsession, and how her Maltese heritage, Italian rendezvous, Japanese partner and Melbourne roots have informed her cult status recipes.
From the stories behind Julia's three bestselling cookbooks to her reaction to "making a Julia" becoming common speak, this is a joy-sparking episode not to be missed. Hit play.