Welcome to Derm Talks – our monthly column where leading skin specialists turn guest editors to share their expert skincare advice (no appointment necessary!).
Take a glance through the ingredient lists of some of the most popular skincare launches of the last couple of years, and odds are you might start to notice one particular ingredient they have in common: peptides. The latest, greatest thing in skin, this power player has become a staple in the routines of beauty lovers everywhere. But why does everyone love them so much?

To find out what all the fuss is about peptides, we turned to an expert: Nicolas Travis, founder of A-list-approved brand Allies of Skin. With a degree in biomedical and pharmaceutical science and many years of formulating products under his belt, Travis is a veritable fountain of knowledge when it comes to skincare. And as it happens, peptides are his jam – they're the hero in several of his bestselling formulas, including the daily moisturiser beloved by Hailey Bieber (the Peptides & Antioxidants Firming Daily Treatment, by the way).

Heard about peptides but not sure what it is they actually do or where to start? Travis is here to answer all your questions...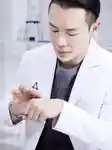 Can you explain what peptides are (in simple terms)?
"Peptides are essentially amino acids, which are the building blocks of protein. They are smaller proteins that have various skin-improving functions."

What makes peptides so amazing? How do they benefit our skin?
"I think of peptides as a personal trainer for our skin cells. Their main function is helping to support the natural biological processes of your skin – including those that help to boost bounce and elasticity, as well as those that help to calm sensitivity and maintain your skin barrier. Really, there are just so many uses for peptides!

"Overall, their biggest strength is that they train your skin to perform better over time. Just like working out, they won't give you instant results, but if you use them consistently, you will see a noticeable improvement. That could be anything from a reduction in the appearance of fine lines and less reactive skin to increased firmness, brightness and hydration."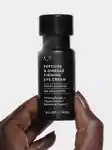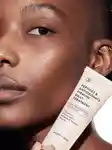 Which skin types can benefit from the use of peptides?
"The beauty of peptides is that they can benefit all skin types and are extremely versatile. They can be used twice a day, every day – morning and night!"

Peptides feature in many of your formulas – why is this? Do they work well with other actives?
"I do consider peptides to be one of our hero ingredients, but I also believe that peptides are best served when combined with other powerful actives like retinal, niacinamide, ceramides, bakuchiol, and vitamin C.

"This is because they complement other actives by providing even more visible results. At Allies of Skin, we like to create multifunctional skincare, so peptides help to give formulas that extra boost that takes it to the next level.

"As an added bonus, they are generally easy to formulate with, which truly does make them a great addition to just about any formula."
Ready to add this plumping powerhouse to your routine? Here's Travis' perfect peptide-powered routine:
Serum
"I would start with a peptide-rich serum to target signs of ageing and soothe sensitivity. In a serum, I would then be looking for other powerful ingredients like niacinamide, vitamin C and Centella asiatica."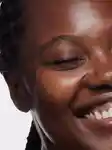 AM moisturiser
"I really like peptides from the Matrixyl family (Tripeptide-38, Tripeptide-1, Tetrapeptide-7) [Editor's note: find these in the
Peptides & Omegas Firming Eye Cream

]
as well as peptides like SYN-COLL (Tripeptide-5) [Editor's note: this one's featured in the
Peptides & Antioxidants Firming Daily Treatment]
to help with the fine lines and loss of elasticity. In moisturisers, I like to pair peptides with ceramides, fatty acid-rich oils and antioxidants."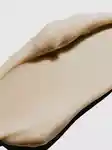 PM moisturiser
"At night, I like to pair peptides with retinaldehyde for a double whammy to boost collagen while you sleep. [Editor's note: you'll find this in the
Retinal & Peptides Repair Night Cream. If your skin is feeling extra sensitive, opt for the soothing

Molecular Barrier Recovery Cream Balm instead.]
"