If the word 'needle' is enough to make you shudder, then the thought of willingly rolling over 500 of them over your face on a regular basis might not be particularly appealing. But our conversation with BeautyBio founder Jamie O'Banion might just change that.
Just for a moment, imagine that applying your skincare products is analogous to maintaining a lovely lawn in your backyard. Now, many of us certainly aren't gardeners (I, for one, can't keep a pot plant alive to save myself). However, when O'Banion talked me through this analogy, the idea of incorporating microneedling into my routine immediately made sense.
She explains, "When you aerate the lawn, naturally that helps create healthier soil. You can think of your skin in the same way – after microneedling, you may find that skin appears rejuvenated," since microneedling promotes a plumper, more fresh-looking complexion.
Intrigued? Keep reading for O'Banion's insights into BeautyBio, their tools and their skincare.
The revolution of microneedling skin stimulation has been tremendous. It's a tool of empowermen
Getting to know the GloPRO Microneedling Tool
Since its launch, BeautyBio's GloPRO Microneedling Tool has become a staple in many a skincare enthusiast's routine, and it's available at MECCA for you to try, too. The tool itself is made up of 540 tiny little surgical stainless steel needles that are shaped in such a way that they just gently part the skin cells. All you need to do is roll the device over clean, dried skin for one minute and apply your skincare (rolling at night is best). The brand recommends using their GloPRO Skin Prep Pads - Clarifying Skin Cleansing Wipes with Peptides prior to rolling. They're specially formulated with no alcohol in them, because alcohol can dry the skin.
There are a number of attachments to choose from as well, each designed for different skin densities. We're talking lips ("helps instantly create the appearance of fuller, plumper lips and soften appearance of fine lines on and around the lip area"), body ("the body adjustment head is a far more efficient treatment because it's wider, to get the broader areas of the body"), and eyes ("the eye attachment head is quite a bit narrower, so you can get right underneath the the ocular bone"). As for the sensation when you're actually rolling the GloPRO across your skin? "I've heard it described as the same feeling as when a kitten licks your skin," O'Banion says with a laugh, "there's a bit of an abrasion to it, but it's not uncomfortable. You can't press too hard, you just let the weight of the tool glide over the skin."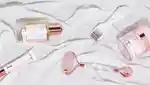 The concept of 'vertical exfoliation'
O'Banion speaks a lot about 'vertical exfoliation', which is what she deems microneedling. "If you think how most other techniques for the skin, like dermaplaning, microdermabrasion, even
chemical peel
s are all horizontal exfoliation. Whether you burn it off, fry it off, scrub it off, your body doesn't care—but those have more downtime," she explains. "So, what I like about vertical exfoliation is it's like being able to remodel the kitchen without tearing the whole house down. Just like when you think about aerating the yard, you don't swap out your entire grass—you aerate, which allows you to have better recovery time and have healthier soil. There's no downtime with microneedling."
Pairing skincare with microneedling
As a brand that's well known (and loved) for both their skin tools and skincare, we proposed to O'Banion what she considers more important of the two. "It's the combination of tools and topicals together," she explains. Designed to work in harmony, the two only enhance the other's results.
Speaking of powerful topicals, O'Banion explains more about R45 The Reversal 3-Phase Retinol Booster System, their number one selling topical. "We have sold millions of units of this product worldwide, and it's become, for us, not just iconic but liberating. It's truly a retinol revolution. Everyone can use it and it releases deeper into the skin than typical over-the-counter retinol," she explains.
"It's very 'goof-proof'," starts O'Banion "you start with phase one, then you can advance to phase two which is 50 percent stronger, then advance to the third phase which is 50 percent stronger again. Then you put it away and you're done. Come back in six months." The brand's The Nightly Retinol + Peptide Repair Serum can be used in between your bi-yearly R45 The Reversal 3-Phase Retinol Booster System application if you wish. And yes, you can apply the R45 after microneedling.
And as for O'Banion's go-to ingredients to use alongside her GloPRO routine? "I would say without a doubt, retinol. And it goes without saying that SPF is critical—otherwise, why do all this great stuff to your skin and not protect it?"
Where to start with BeautyBio
"I would say start with
GloPRO Microneedling Tool
. Use it with what [skincare] you own, and you'll start to rediscover, or discover for the first time, some of the ingredients that maybe you weren't getting the most benefits of."
Final thoughts from O'Banion
"We introduced microneedling into the clinical space almost 15 years ago. At the time, the proposition of saying, 'hey, we're going to use these tiny little needles to help stimulate the skin,' was certainly very new and disruptive. When you say it out loud, it sounds kind of crazy," O'Banion explains. "But I love that quote by Henry Ford, the inventor of the Model T car: 'If I asked my customers what they wanted, they would have told me a faster horse'."
"We are committed as a brand to pursue the best and offer that to people. The revolution of microneedling skin stimulation has been tremendous. It's a tool of empowerment."