Mulled over your microbiome lately? You should!
These invisible life forms are like the security guards of your skin, protecting it from infections and shielding it from external aggressors like pollution.
It's no surprise that this greatly impacts the skin's resilience, vitality and overall appearance. Believe us, they are not something to be overlooked.
If there's one brand that knows a thing or two about your microbiome, it's Cultured. Founded by Rob Calcraft (who co-founded REN Clean Skincare), Cultured is a less-is-more skincare brand with streamlined routines that place the microbiome on a well-deserved pedestal.
Its formulas utilise unique, next-generation bio-fermented actives – called FutureFerments™ – to help support the microbiome and tackle modern skin concerns.
MECCAversity Category Strategy Manager, Lucy Shaw, is here to break down everything you need to know about your microbiome – from the tell-tale signs it's compromised, to the role Cultured products play in helping your skin stay happy and hydrated. Go on, make time for your microbiome!
The discovery of the skin microbiome is the biggest thing to ever happen to skincare.
Rob Calcraft, Founder, Cultured
First things first, what is the skin microbiome?
We promise, lessons in biology are fun when your skin is concerned, and learning about your microbiome is no exception. Shaw describes the microbiome as "an invisible layer made up of trillions of microorganisms, including bacteria and fungi".
Though the thought of microorganisms sitting on your skin seems anything but glamorous, Shaw clarifies that they are the 'friendly' kind, "crucial in helping your skin to fight off unhealthy or dangerous pathogens and pollutants that can cause skin troubles or concerns."
Day-to-day life exposes our skin to a whole host of external factors it doesn't like; think harsh chemicals, germs and polluted city air. Your microbiome is the unsung hero working overtime to protect the skin from just that. Calcraft puts it quite literally: "The discovery of the skin microbiome is the biggest thing to ever happen to skincare," he tells MECCA. Do we have your attention yet?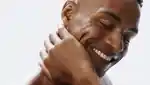 Why should we focus on keeping our microbiome healthy?
Now that we've established why the microbiome reserves a front-row seat on our faces, let's talk about keeping it healthy. Shaw explains that "a healthy microbiome means strong, resilient skin that can do its all-important job of protecting you from the outside world."
The microbiome forms a crucial part of your skin barrier (alongside lipids and the acid mantle), which is responsible for trapping essential moisture within the epidermis and keeping irritants and potential pathogens out.
Shaw adds, "When your skin microbiome is in check, it means your skin barrier is strengthened and can maintain hydration better, resulting in happy, healthy skin."
So, if your goal is to get radiant, strong and hydrated skin, then take this as a sign to start taking your microbiome seriously.
What are the tell-tale signs of a compromised microbiome?
According to Shaw, it's essential to keep a close eye on your skin – if it's easily irritated, intolerant or compromised, it could be a sign your microbiome is unbalanced. She explains that this is "usually made obvious by red, itchy or flaking skin that is struggling to form a protective barrier. A compromised microbiome may also result in breakouts, blemishes, and uneven skin texture."
In other words, many common skin concerns are tell-tale signs you need to pay closer attention to your microbiome. And that is really where the groundbreaking research into the microbiome has shaken the world of skincare, and led to Calcraft's major 'lightbulb' moment that eventually became Cultured.
Culture's bio-fermented formulas will help to support the good bacteria and keep your barrier balanced.
How do you keep your microbiome healthy?
The long overdue recognition of your microbiome's hard work has seen brands like Cultured create products that support these microorganisms so they can do their best work. "Cultured's bio-fermented formulas will help to support the 'good' bacteria and keep your barrier balanced," says Shaw.
'What is a bio-fermented formula?' we hear you ask. FutureFerments™ is the name; barrier boosting is the game. Through the process of fermentation, Cultured transforms individual ingredients into more potent and nutrient dense 'super-actives' that are more compatible with your skin and support your microbiome. Impressive!
And finally, let's conclude with a skincare affirmation: don't over-cleanse the skin! "The oil and sweat that appears on your skin create an ideal environment for 'good' bacteria to thrive," explains Shaw. So, alongside microbiome-first skincare, it's important not to strip your skin of its natural features that keep the microbiome happy.