Brandy Hoffman and Patricia Santos bonded as friends who wanted to change the beauty industry.
In 2016, they did just that, launching innovative brand 
Volition Beauty
, which relies on customers (you!) to send through ideas for products, which then go to a vote to see if they'll be made.
Our definition of true democratisation is that it puts all the power in the consumer from start to finish, and we have built the platform to process this feedback.
How they came up with the idea of Volition
With their combined experience working across beauty (more specifically, the business of beauty), Brandy Hoffman and Patricia Santos knew there was room for improvement. "We found ourselves fixating on the apparent issues of the 'normal' product development within the beauty industry," recalls Hoffman. "We both had agreed that a boardroom of typically white, male executives shouldn't be the only ones making the call of what's trendy or what consumers want. It was a lightbulb moment of 'why don't we have them [consumers] tell us what they want?'. We peeled away everything we wanted to change, and when we put everything back together, Volition was born."

How is product development different when the customer is involved?
According to Santos, having the customer involved earlier on in the process solves two big problems that usually abound with product development: a high rate of product failures and products that aren't unique enough. "By allowing customers to submit their ideas and then having the community vote on what they want, it avoids both issues," she says. While many beauty brands have claimed to democratise beauty, Volition takes it one step further, with Santos explaining, "Our definition of true democratisation is that it puts all the power in the consumer from start to finish, and we have built the platform to process this feedback."
At Volition, they call for customers to send through ideas, which get validated by an internal product development team and a lab before being put up to a vote with other ideas. "It's a welcomed challenge, and I like to be pushed," says Hoffman, explaining, "the pressure to execute on this is intense. It can sometimes be frustrating because the ideas are so groundbreaking, it can be tough to find the rare ingredients that work, and then to stabilise them for the product." Case in point: the snow mushroom in the hydrating Snow Mushroom Water Serum had to be very carefully handled to ensure that it had the highest concentration, without affecting texture. Hoffman, who has experience in product development, notes that the process can sometimes take up to two years, "At Volition, we have hacked the process without sacrificing safety and quality, so our turnaround is a fraction of the time."
The customers with the ideas (the brand refers to them as 'Innovators') are involved all the way. If an idea is voted through, the Innovator is sent samples of the formula as it is tested, and all copy, packaging and more are shared with them. "It's always our goal to keep the entirety of the process collaborative," says Hoffman. By the way, Hoffman's favourite product is the Strawberry-C Brightening Serum, while Santos loves the Turmeric Brightening Polish.
How much better is a product inspired by a DIY home remedy than an actual DIY home remedy?
Volition's Strawberry-C Brightening Serum came from an Innovator that placed strawberries on their face to brighten the appearance of their skin. And while apple cider vinegar has long been a home beauty remedy, Volition transforms it for the Apple Cider Vinegar Resurfacing Peel Pads. "A lot of DIYs and home remedies aren't stable, and at times, can be too acidic or abrasive on skin," clarifies Hoffman. "Our team and lab network's expertise ensure that won't happen within our formulas," she says. The Turmeric Brightening Polish was created by an American-Indian woman, Anuradha, who "used and experienced her cultural DIY, and was disappointed to see that the glow also came with stained skin," explains Hoffman. So the Volition formula performs the same skin-brightening exfoliation by extracting the turmeric from the root and thereby eliminating the colour residue.
Likewise, celery juice has been credited by many as a superfood elixir, so how do they harness it for the skin? "A lot of good-for-you ingredients beneficially translate from inside out due to their naturally-derived vitamins, antioxidants and minerals," says Santos. For the Celery Green Cream, the Volition team fact checked to ensure that the external benefits matched up with its internal ones.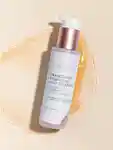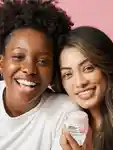 How challenging is it to turn an idea into a product?
"Some ideas are indeed too good to be true and we could never make them," says Santos. Hoffman adds, "An idea has to hit those three marks of feasibility, differentiation and safety in order to move forward. We don't want to create the umpteenth matcha XYZ or watermelon lip balm – there's so many on the shelves, we don't need to add another. We want to cut through the noise."