Ever looked at your moisturiser's (or serum's, or toner's) ingredient list and felt engulfed in a wave of confusion?
MECCApedia is here to decode the science, unravel the jargon and give you the knowledge to understand the actives you're slathering on morning and night. Let your skincare education commence!
There are some skincare ingredients that hold a special place in many people's routine; those that work like a charm on basically all skin types and play nice with practically every other ingredient out there. They also tend to be ingredients that are recommended by dermatologists, skin therapists and beauty experts alike. You may have heard of some of them, like hyaluronic acid and SPF, but there's one ingredient that's slightly harder to pronounce that you definitely need to know about. Meet niacinamide!
Active but low-key, niacinamide is a vitamin with multiple benefits for your skin and it can be used by a wide variety of skin types. Day, night, summer, winter, use it any time, in any skincare routine. Here's everything you need to know about this over-achieving, jack-of-all-trades ingredient.
Niacinamide is a derivative of vitamin B3 (also known as niacin). Because niacinamide is water-soluble, meaning it dissolves in water, our bodies are unable to store it effectively and we need to ingest it via vitamin B3-rich foods like poultry, legumes, fish, green vegetables and eggs.
Niacinamide can also be applied topically, which is where niacinamide skincare can help. That water-soluble trait we mentioned? It's what makes niacinamide so easy for our skin to absorb and why it is a hugely popular skincare ingredient. FYI, if you're shopping for a niacinamide product (we can help you with some suggestions below), you may see it listed as either niacinamide, vitamin B3 or nicotinamide on the ingredient list.
What are the benefits of niacinamide for skin?
Some skin benefits of niacinamide include strengthening the lipid barrier (the uppermost layer of your skin that weakens with age) by kickstarting the production of ceramides, which are the fats that protect skin and help it retain moisture. This process helps to deal with dullness and dryness in the skin, as well as refine the appearance of pores. If you have a healthy skin barrier, it usually means you have healthy and hydrated skin, too.
Niacinamide also has antioxidant properties which means it can help counteract the damage done to skin by daily aggressors, like pollution and UV rays. It's also an anti-inflammatory, so niacinamide can help to soothe an uneven skin tone and sensitivity, and alleviate blemishes and breakouts by helping to regulate oil production and unclog pores.
And the niacinamide skin benefits don't stop there: it can also boost the skin's collagen production process (which means a softening of fine lines and wrinkles) and reduce the appearance of uneven skin tone, dark spots and blemish marks, which it does by inhibiting the enzymes that produce pigment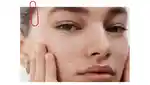 What skin types should use niacinamide?
Niacinamide works pretty well on all skin types, but as always, be sure to patch test any new product to determine if it's right for you and your skin.
Those with sensitive skin, or anyone prone to inflammatory conditions like eczema and rosacea could benefit from niacinamide's soothing properties. This barrier-strengthening power also makes niacinamide a must for dry and dehydrated skin types, as it boosts the skin's ability to hold onto moisture. Due to its oil-balancing properties, it is also suitable for oily or combination skin types.
How do you add niacinamide to your skincare routine?
If you want to add niacinamide to your routine, look for leave-on products like serums, moisturisers and masks, as opposed to wash-off products which will allow your skin ample time to drink up this skin-loving ingredient. And go ahead and use niacinamide day or night – she's that versatile!
Also, don't skip niacinamide-spiked eye serums and moisturisers: with its fortifying and strengthening capabilities, niacinamide can be helpful in nourishing and restoring the delicate skin around the eyes.
What ingredients can you pair with niacinamide?
Here's where niacinamide really stands out: it pairs extremely well with other active ingredients.
When used alongside retinol, niacinamide can help alleviate some of retinol's potential side effects, which can include skin irritation, dryness and flakiness. This is an especially good combination if you're new to retinol and need to build up your skin's tolerance. Start by layering niacinamide to hydrate and cushion skin, wait a minute for it to fully absorb and then apply your retinol product over the top.
Looking for a heavy dose of hydration? Pair niacinamide and hyaluronic acid. Try using hyaluronic acid first (as a humectant, it will pull moisture from the environment and from deep within skin layers into the surface layers of skin where dehydration is usually apparent) and follow with niacinamide (with its barrier-supporting properties, it will help skin hold onto this moisture).
For super smooth and supple skin, using niacinamide alongside exfoliating acids, like AHAs (lactic and glycolic acids) and BHAs (salicylic acid) can work to effectively retexturise your complexion without drying it out. Just ensure you allow each layer of skincare to thoroughly dry before applying the next product – this allows each product the chance to fully penetrate skin and also minimises the risk of irritation.
What ingredients should you avoid when using niacinamide?
And when it comes to niacinamide and
vitamin C
, there has been a little confusion owing to some outdated research. Previously, it was thought that using the two ingredients together was unwise, because both ingredients were 'unstable', or that the two ingredients might react with each other and produce nicotinic acid (which can result in skin that's red and itchy). But today's innovations in formulation and stabilisation make both concerns moot. In fact, most experts now believe that the two ingredients are complementary and both can benefit skin. But if you have any concerns, you can try using the ingredients at different times of the day, say, vitamin C in the morning to counteract any free radical damage your skin is faced with, and niacinamide at night to help your skin cells repair whatever damage they've incurred during the day.