In the same way a few spritzes of your favourite fragrance is the final finishing touch that pulls together an outfit, filling your home with a 'signature scent' is like the finishing touch on your decor; it amplifies the mood you want to create and makes the space feel more, well, you.

"Home fragrance is a chance to completely elevate your space," says MECCA Fragrance Specialist and Beauty Board member Steven Glyde. "And home fragrance goes beyond just the scent; [the vessel] will exist in your home, it will be visible. A home fragrance is something that you interact with, so, there's a holistic approach we can take."

Here, Glyde shares his expert guide to matching your home's design style (and your personality) with a signature scent from Diptyque's collection. Ready to be inspired?
The rules of home fragrance
So, where do you start when choosing a home fragrance? According to Glyde, the most important element to consider when choosing a home scent is the space itself – whether it be a room, outdoor area or hallway. "Most people begin with trying to find the perfect scent – I find it far more interesting to start with an interrogation of the space in question," he explains. "How big is it? What materials, textiles and decor are present? Does this space need support and elevation, or a 'pop?'"

Glyde adds, "The only real parameter we need to understand is how big the space in question is."

Next, it's time to consider the way your home fragrance is delivered. "Your classic home fragrance options are candles, room sprays and diffusers," the expert explains. "Knowing the difference can help you navigate the home category, and begin to understand how they each serve a space in unique ways."

Glyde calls candles "more than just home fragrance"; from trimming the wick to striking the match and watching the flickering flame dance as the scent slowly emanates through the air, "they carry ritual and intention into a fragrant experience."

Says Glyde, "Candles will gently fill a room with scent, provide ambience, and require that you end the ritual when it's time. It's the perfect option for people who want to create special moments, mindful escapes, or experience home fragrance in an intentional way."

There other benefits to candles, too: "They come in sizes to meet every sized room, and a wide array evocative scents," Glyde explains, adding, "Candles, to me, always feel like an investment; at the end of its 'life', I know I'll have a beautiful vessel to repurpose – a Diptyque candle becomes an aesthetic brush holder, for example."

But while candles are about the ritual, room sprays provide "immediate satisfaction," says the expert. "Your home will be transformed not long after that first spray, and room sprays will typically 'hold' [the scent] for 20 – 45 minutes.

"They are the perfect option to freshen up, or prepare a space for company."

When it comes to scenting your home's interior, Glyde reassures that larger rooms are "no problem": "Another spray or two and you'll see how far a luxury room spray can take you!"

Finally, there are diffusers – "The 'no-fuss' home fragrance choice, offering a gentle aura to your space," according to Glyde, who adds, "Diffusers will elevate your space for months on end, ensuring the vibe is always right!"

He calls them "perfect for small-to-medium rooms, or in a hallway to help scentscape the home," and advises placing them "by a door, or somewhere exposed to a gentle breeze – this will help you get the greatest expression out of your diffuser."
Modern farmhouse
To you, home should feel like home: cosy, familiar and comfortable – think natural woods, earthy tones and warm lighting. Glyde calls it the "'modern-meets-cabin-core' approach to interior design," and recommends Diptyque's Feu de Bois: "Feu de Bois will provide all the cosiness of a campfire, playing beautifully off the organic materials utilised to create your home. Inviting, warm, and a little spicy."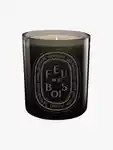 Home Jungle
Your home is filled with trailing monstera, leafy philodendrons and a thriving fiddle leaf fig you've lovingly tended despite its fussy nature. Your windowsills are filled with propagation jars, and if you're lucky enough to have a garden, it's lush and blooming. For the home jungle lovers, Glyde selects Diptyque's classic, Figuier: "Figuier is perfect for anybody with a green thumb," says Glyde. "It has a warm, woody-fig scent that transports you to the Mediterranean. As it mingles with your home forest it will create a cocoon of greenery zen.

He adds: "The Figuier Large Outdoor Candle is also the perfect addition to a home bathed in greenery – not to mention the endless possibilities for the beautiful ceramic vessel once the candle has been used up."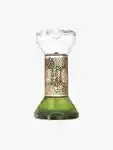 Eclectic Maximalist
Everything, everywhere, all at once – that's the phrase that best describes your approach to design. A riot of colour, pattern, creativity and unique objects and art, your home is a treasure trove of self-expression, and it's truly unlike any other. How do you make a zebra-print rug work with an orange tufted sofa and a pink-framed mirror? Who knows?! But you found a way! For you, Glyde selects Opoponax: "Opoponax is an amber scent that will delicately warm the air with complex notes of spice and sweet tree resin. It's a soothing home scent that will gently wrap around all the edges of the interior maximalist."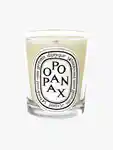 Vintage Revival
A blend of mid-century modern and bohemian flourish, the vintage revival style feels elevated and sophisticated, yet still lived in. It's warm and inviting; filled with rich details and textures, without being too cluttered. It's not minimalist, but it is cohesive. Did you watch Troye Sivan's Architectural Digest Home Tour and think, "Hey, that looks just like my place!"? If you answered yes, then Glyde recommends the glorious 34 Boulevard Saint Germain to match your style: "The 34 Boulevard Saint Germain Candle is the ultimate home scent. It smells luxurious and was designed to capture the scent of the Diptyque store in Paris. That level of complexity blended into an inviting home scent will be right at home with the vintage revival interior. Woods, florals, spices; this candle has it all, and in the right amounts."
Adds Glyde, "I would opt for the 600g size candle, as it would fit right in with visual aesthetic, becoming one with the incredible space. It will also offer a larger scent throw for an open living space."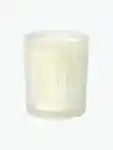 Indoor/Outdoor Flow
Whether your home is coastal, country or urban, one thing's for sure: you're bringing the outside in. Fresh air and sunlight are essentials, with minimal barriers – doors roll away, windows open wide, and your interior style reflects the calmness of nature (you're likely drawn to sandy tones, linen textures, sculptural details and a more minimalist aesthetic, with subtle greenery).

Your home's signature scent? "Noisetier is your perfect companion. This candle has earthy notes of hazelnut mixed with the sharpness of green leaves. It takes two distinct notes from nature and gives us something surprising and uplifting – it's everything you wish was carried into your home on the breeze," says Glyde.
To further draw the outside in, try burning the Mimosa candle. Inspired by the canary-hued bloom that grows in winter on France's Provençal coast, close your eyes, catch the delicate honey notes thrown by the Mimosa flower and be transported to the hills of Tanneron without ever leaving your home.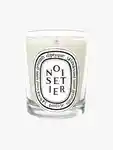 For Every Home
There are a few home fragrances that work for every interior design style and room, starting with a Diptyque icon: "The classic for a reason, the Baies Candle would feel at home anywhere it is lit," says Glyde. "It will provide an elegant, clean feeling to any space. Rose and blackcurrant are perfectly blended to make your home smell like it has an abundance of light, and not a speck of dust."

Meanwhile, "If you enjoy the seasonal switch-up for your home scents, you can't go past Pomander and Oranger," says Glyde. "Oranger is a fresh, photorealistic orange scent. It uplifts and brightens the home in a fun, playful way. This will carry you through summer and spring months – the ultimate match for sunny days.

"Pomander takes the orange note and warms it up with spices, like clove. It's an enveloping scent, reminiscent of an orange cake; it makes the winter and autumn months feel cosy and vibrant."