Jo Malone London has become a byword for exquisite lifestyle fragrances.
Launched in the 1990s by one Ms Jo Malone, the brand has earned a reputation for pairing unexpected ingredients, encouraging us all to layer and combine scents to compose our own bespoke blends, and dreaming up enchanting backstories and magical campaigns for their creations.
And Jo Malone London wants us to scent our entire world, offering a wide range of home, bath, body and personal scent. The brand's candles are a collector's item, and bestselling scents, like Lime Basil & Mandarin or English Pear & Freesia, can be found on the vanities of discerning fragrance lovers the world over. You'd be hard-pressed to find anyone who doesn't delight in holding one of their iconic cream-and-black packaging in their hands.
Here, Celine Roux, the Marseille-born, London-based head of fragrance development for Jo Malone London, explains the DNA of this quintessentially British brand, and shares her most intoxicating scent memories.
Our fragrances all have an unexpected twist, therefore they can be worn by men or women.
What do you do at Jo Malone London?
"I head up fragrance development, so I work on concepts for fragrances and products for the whole brand, and then track development until it's on the shelves."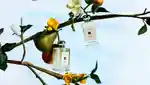 What makes Jo Malone London fragrances so special?
"I would say three things. Firstly, they always have a story that ties to an emotional link – that's really important. Secondly, we focus on ingredients and maintain an authenticity to those ingredients. Thirdly, our fragrances all have an unexpected twist, therefore they can be worn by men or women."
How has Jo Malone London stayed quintessentially British?
"In every fragrance, there is always a link to Britishness, whether it's the inspiration of a place, a cultural significance or something from history.
Wood Sage & Sea Salt
was inspired by the English coast, and
Blackberry & Bay
was inspired by blackberry picking in the summer. There's always something that resonates with the British people."
What three beauty rules do you live by?
"A lot of laughter, a lot of water and always go to bed with clean skin."
Tell me about your skin and hair care regimen?
If you could only wear one scent for the rest of your life, what would it be?
"If I could capture the scent of my two boys when they first wake up, that scent in their necks, that would be the scent I would like to wear for the rest of time."

Scent quiz: finish these phrases
Christmas smells like… "Clove and fireplaces. Every year my mum bakes cookies with cloves."
New Year's Eve smells like… "Party poppers!"
Travel smells like… "The homemade English lavender sachet that I always put in my suitcase."
Summer smells like… "Watermelon and figs. What I eat all summer long!"
Happiness smells like… "Candy, no doubt!"
The Jo Malone London terrace smells like… "Our Peony & Blush Suede scent."
London smells like… "Our Earl Grey & Cucumber scent. It's reminiscent of a cup of Earl Grey tea."
Paris smells like… "Croissants."
Monday morning smells like… "Something fresh. I always like the start of the week with good resolutions."
Sunday smells like… "A bunch of flowers from the flower market. Right now, I have tuberoses and I adore them."
Nostalgia smells like… "The sea, where I grew up." Love smells like… "A beautiful red lipstick."
Heartbreak smells like… "Something I don't want to smell ever again."
Success smells like… "Wood Sage & Sea Salt, a fragrance I worked on that does very well."