You've stood before the Doumo, sipped espresso in sun-soaked piazzas and shopped your heart out at Via Montenapoleone – but if you ask Gucci Westman, there's so much more to Italy's bustling fashion hub, Milan.
As a makeup artist to the stars and the visionary behind the skincare-meets-makeup brand Westman Atelier, work often takes Westman from one side of the globe to the other – sometimes in the same week.
But earlier this year she found herself at a loose end in Milan, and of course we tapped her for insider expertise, from buzzy boutique hotels to authentic local specialties and yes, her effortless holiday beauty essentials. Look forward to exploring a different side to one of your favourite European destinations through Westman's trademark luminous eyes.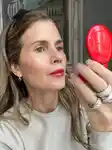 "Dewy skin, sculpted cheekbones, and bold red lip to match the glamorous vibe of Italy's fashion capital."
Gucci Westman
If you're lucky enough to find yourself here in winter, you'll realise this is the season for true la dolce vita. Deserted streets and monuments are free from hordes of summertime tourists. You're free to zig-zag between the historic ateliers and restaurants of Galleria Vittorio Emanuele II as you please. Vintage stores are brimming with rare finds. And should you want to gaze at Da Vinci's fresco The Last Supper, well, there are no lines in sight.
To match the laidback air, Westman's signature light-handed approach to beauty takes on a suitably chic twist: "Dewy skin, sculpted cheekbones, and bold red lip to match the glamorous vibe of Italy's fashion capital," and not to be forgotten, "a few coats of jet-black mascara."
Westman uses the skincare-stacked Vital Skincare Complexion Drops and the Face Trace Contour Stick in 'Biscuit', then pulls her Milanese look together with the Lip Suede in 'Les Rouges' (editor's note: returning to MECCA very soon, but in the meantime try Squeaky Clean Liquid Lip Balm in 'Pipsqueak') and the Eye Love You Mascara.
Impeccable service and true Italian charm, Westman chooses to pay homage to the city's old-world grace at the resplendent Hotel Principe de Savoia. Here, Milanese design meets modern luxury just a leisurely two-minute walk from the picturesque Indro Montanelli Gardens and a conveniently short stroll to the historic opera house, La Scala, and the Duomo (if that's your preferred mode of transport).
Another favourite of Westman's, and an equally enviable oasis, is the boutique Portrait Milano which overlooks the largest public square in the fashion district (and hottest new destination for dining and shopping) Piazza del Quadrilatero. As a former seminary, the hotel's baroque colonnades frame leafy cobbled courtyards and bougainvillea-strewn balconies. A toast to your journey at the hotel's Beefbar Milano is a must!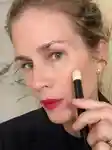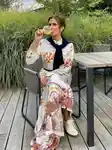 Like a mint-condition vintage Prada bag, the sublime tastes of Milan are often hiding in places you might never think to look. From handmade pasta to the first bite of a crispy cannoli and enough golden-green olive oil to spark an inferno, if there were ever a time to indulge, this is it!
Westman's degustation of delights unfolds at Paper Moon Giardino, with its atmosphere akin to a private residence and a net-to-plate, field-to-fork menu that heroes raw seafood. At Da Giacomo the experience is reminiscent of an old Milanese trattoria serving a sumptuous version of the classics.
Reward a day of exploring with bellinis and the famous carpaccio at the hotel restaurant of Casa Cipriani Milano. And finally, the famous Il Baretto has reopened its doors after a hiatus and Westman couldn't be happier.
For fashion lovers, there's no greater experience than treading the cobbled streets where the likes of Dolce & Gabbana and Versace began their iconic houses. Where will you find Westman? 10 Corso Como is high on the hit list. Opened in 1990 by former fashion editor and publisher Carla Sozzani, the exclusive destination offers a unique shopping experience and authentic Italian style.
There's always room in the suitcase for souvenirs in the form of Laboratorio Paravicini ceramics, and on a brisk winter's day, Westman can happily while away a day amongst the latest installations at Fondazione Prada. "It's always fun to see what's new and check out the exhibits," Westman tells MECCA.