Let me preface what I'm about to say (well, write) with the fact that I love watching new makeup trends emerge on TikTok. Every week, I feel inspired to try something new – and write about it. But over the past month, said trends have evolved faster than one could say, "Drunk Elephant D-Bronzi™ Anti-Pollution Sunshine Drops."
At first, I winced. Lattes, strawberries, wine, tomatoes, blueberry milk – you'd be forgiven for mistaking this list for a brunch menu, rather than a trend report. I stewed about the financial and environmental impact of trends that seemed to hog the spotlight for three days before the next one came along, and pondered the similarities to the way microtrends infiltrated the fashion industry towards the tail end of 2020, instigating a culture of fast fashion that seemed to undo years of work towards a more ethical, sustainable industry.
Could microtrends become a sustainable approach to beauty?
After trying all the trends for myself – and I really do mean all of them – I noticed a major difference: that I didn't have to completely overhaul my beauty bag to be able to recreate a fun, trending look. Sure, there's always the option to make a purchase if you're in the mood for something new, but for the most part, these trends were able to evolve so quickly because they don't require you to stock up on new arrivals, or book time-consuming procedures (brow appointments, lasers, injectables and the like).
TikTok commentators (mostly of the Millennial variety) noted that the 'latte makeup' look especially – a warm, bronzed, blush-free complexion with a warm brown smoky eye – wasn't a new trend, but rather a throwback revitalisation of the makeup many of us rocked in 2018. That was certainly true for me, and I saw myself dusting off products I hadn't touched in years to bring the look to life.
As the rising cost of living tugs at our Sandy Liang X Baggu collab shoulder bags, there is so much creativity and reinvention about to explode within our feeds – involving the products and brands we already know and love – and microtrends (even the ones with silly, fruity names) are just the beginning of it. I think that's something to be celebrated!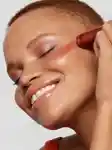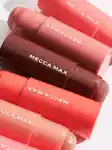 If beauty trends change weekly, does that make them defunct?
A trend, by definition, is a pattern found in time series datasets. In the context of beauty, I personally feel that the best way to define a trend is in retrospection. Trends like skinny brows, 'Twiggy' lashes, '90s brown lips and Kim Kardashian contouring were all era-defining, and painted the aesthetic of a specific moment in time.
While we might not look back in 20 years and reminisce about our pomodoro moment, I do believe many of today's microtrends, as a collective, highlight a broader trend in makeup: the emphasis on cheeks as the focal point – glowing, sunkissed, berry-stained, wine-reacting… The lot.
The best beauty products to keep up with all the trends