I still remember the excitement I felt when I finally made my first
M·A·C Cosmetics
purchase: their legendary
Lipstick in 'Ruby Woo'
. Inspired to run out and buy it as soon as I heard it was the red on every dancer's lips in Justin Bieber's 'Sorry' video (and somehow suited every skin tone perfectly), it immediately earnt its long-standing place in my beauty bag.
Beloved by makeup artists, celebrities and beauty obsessives alike, M·A·C is
always
the moment – and a mainstay on red carpets, film sets and runways the world over, thanks to its pro-finish formulas and artist-approved colours.
The foundation going viral on the London Tube
Studio Radiance Serum Powered Foundation
Could you be more of the moment than Tube Girl? Also known as Sabrina Bahsoon, the internet sensation has gone from our TikTok feeds to front row at fashion week. And now, her signature strut (normally shown in her viral videos dancing on the London Tube) has made its way to the catwalk, courtesy of M·A·C's 'The Face Show'.
Attended by the likes of Charli XCX and Nicole Scherzinger, it was all in honour of the new Studio Radiance Serum Powered Foundation. A luminous, skin-enhancing base, it's the perfect match for Bahsoon's unique brand of self-confidence – try it and let your inner #TubeGirl out!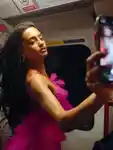 Sabrina Bahsoon, aka 'Tube Girl' (Image credit: @sabrinabahsoon/@keaton_rich)
The red lipstick made for Madonna (literally)
Back in 1990, the 'Queen of Pop' was preparing for her Blond Ambition World Tour and decided that she needed the perfect red lipstick to last through a sweat-inducing performance. So, she turned to Frank Toskan and Frank Angelo, the founders of then little-known Canadian brand Makeup Art Cosmetics – aka M·A·C!

They created an intense matte red just for her, which would later be known as Russian Red, and soon became just as iconic as her infamous Jean Paul Gaultier conical bra. The rest is history – and if you want to be a part of it, you can still purchase the shade today (go on, 'Express Yourself'!).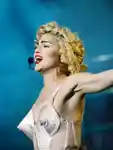 Madonna on her Blond Ambition World Tour (Image credit: Getty Images)
The base that's seen more film sets than Spielberg
Studio Radiance Face & Body Radiant Sheer Foundation
What do the Little Mermaid (Halle Bailey's version) and every character on Euphoria have in common? This foundation. Sheer, buildable and with a smooth satin finish, M·A·C Studio Radiance Face & Body is a staple in just about every professional makeup artist's kit.
Undetectable on camera, self-setting and able to be used (as the name suggests) across the face and body, this is a base that has stood the test of time – and been in enough films to deserve a 'Best Supporting Actor' award. Euphoria makeup artist Donni Davy made it the show's go-to foundation (usually mixed with moisturiser for an even more natural look) after Zendaya herself recommended it to her. And if it's good enough for Zendaya, it's good enough for us!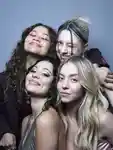 The cast of HBO's Euphoria (Image credit: @euphoria)
The lip liner on everyone's favourite 'Friend'
Friends
has given us so many things: endless quotes ("Pivot!"), several debates over what 'a break' really is and an almost pathological need to clap when the theme song starts. But to us, the most important legacy will always be the beauty – and for that, Rachel (played by Jennifer Aniston) takes the cake.
'The Rachel' might be most heavily associated with her signature layered haircut, but let us suggest her lip colour as an alternative. TikTok has recently helped to uncover the exact lip liner used for this bricky-brown look: M·A·C's
Lip Pencil in 'Spice'
(which also happens to be one of Kylie Jenner's favourites), topped off with a warm-toned, neutral lipstick. Go forth and fulfil your '90s dreams!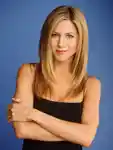 Jennifer Aniston as Rachel in Friends (Image credit: Getty Images)
The gloss that's synonymous with the '90s
Speaking of the '90s, any list of M·A·C beauty icons would be incomplete without a mention of the Squirt Plumping Gloss Stick. A celebrity in and of itself, for those who might not have been around when it first launched, you'll recognise the 'It' gloss today from its recent rounds on TikTok (after it was brought back due to popular demand).

Most well-known in the neon green 'Like Squirt' shade, the shade is inspired by all things '90s – when rave culture, plastic and electro music went pop. But don't worry, it doesn't show up green on the lips, instead playing with colour theory to neutralise red tones and create a coral or caramel hue, depending on your lips.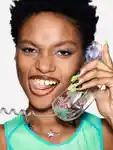 The oh-so-'90s Squirt Gloss (Image credit: M·A·C Cosmetics)