Emma Lewisham is obsessed with her skin's microbiome – and yours, too! According to the eponymous brand founder, it might just be the long-awaited secret to battling breakouts without any drying, irritating side effects. And when her science-led, sustainability-focused skincare line already counts a long list of fans including everyone from actresses Margot Robbie and Phoebe Tonkin to model Lara Worthington, we're paying attention.

The world's first climate-positive beauty brand has added another first to its list by harnessing the powers of a unique skin-strain probiotic backed by 20 years of research in its new Supernatural Blemish Face Serum, all with the aim of balancing your all-important microbiome. Intrigued? So were we!

To find out exactly what the skin's microbiome is, how we can support it and what makes her new launch so groundbreaking, we turned to the source herself. Prepare to have everything you thought you knew about breakouts changed forever...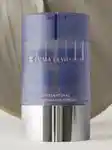 What is the microbiome and how does it impact breakouts? 
"The skin's microbiome is a complex ecosystem that is home to a diverse community of microorganisms that inhabit the skin's surface. These microorganisms play a vital role in maintaining healthy-looking skin.

"For example, there's a skin-dwelling bacteria that plays a role in the formation of blemishes after pores become blocked. The presence of this blemish-causing bacteria highlights the importance of keeping the population of certain microbes in check – which is exactly what the specialised strain of probiotic used in the new Emma Lewisham Supernatural Blemish Face Serum does."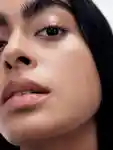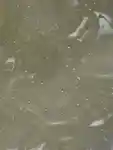 How can probiotics help your skin's microbiome? 
"In the context of human skin, probiotics are live microbes that live on and benefit the skin by helping to maintain a balanced microbiome. In turn, this helps to defend against blemish-causing bacteria. Some probiotics can also contribute to healthy-looking skin by helping to prevent excessive irritation, maintain hydration levels or supporting skin barrier function. Effectively, they can act as a peacekeeper for the microbiome!"
"We were determined to provide people with a blemish solution that not only delivered results, but simultaneously supported the overall condition of the skin."
Emma Lewisham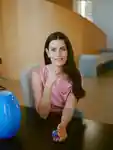 So, what makes the Supernatural Blemish Face Serum so revolutionary?
"To date, most blemish solutions have asked customers to make a compromise between tolerability and results. While they may help with breakouts, they are often harsh on the skin and can leave it feeling irritated and dry.

"At Emma Lewisham, we were determined to provide people with a blemish solution that not only delivered results, but simultaneously supported the overall condition of the skin. Advances in research on the skin's microbiome have highlighted the opportunity to work with our skin's own microbial communities to deliver better solutions without harsh side effects."

Tell us more about what the specific probiotic in this serum can do for skin?
"What is unique about our patented Micrococcus luteus probiotic strain is that it is a skin-strain probiotic that lives naturally on human skin (as opposed to the gut or dirt, for example). This means it can work most effectively when applied back to its natural environment. There is over 20 years of research demonstrating how this probiotic can inhibit key breakout-causing bacteria and reduce the look of blemishes.

"Our Supernatural Blemish Face Serum is the only skincare product in the world to contain this patented probiotic. It is incredibly rare for skincare products to contain truly live probiotics, but this formula has been extensively tested to confirm that its patented Micrococcus luteus probiotic remains live throughout its shelf life (up to 2 years when unopened and 4 months after opening).

"The result is a highly unique formulation that improves the skin's microbiome, fundamental to not only reduce blemishes but to bolster the overall condition and appearance of the skin."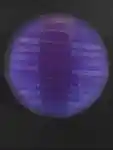 A petri dish showing the unique probiotic in the Supernatural Blemish Face Serum.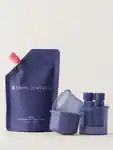 The entire Emma Lewisham range comes in refillable packaging, designed to reduce waste.
Are probiotics in skincare really effective?
"It's important to note that a certain amount of all microbes (good and bad) on your skin are washed off when you cleanse or shower, and the microbial population will slightly reduce. However, these microbes are alive, replicating and interacting with your skin – this means that while a small portion of them get washed off, we know that an effective amount are left on and will keep fighting breakout-causing bacteria.

"In every dose of the Supernatural Blemish Face Serum, there are more than 235 million probiotic cells – apply morning and night to help replenish the population of beneficial microbes on your skin."