Magical healing waters, 460-year-old baths and a blind date: the story of Omorovicza
January 1 | 37 minute listen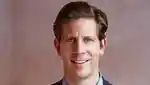 Hosted By Kate Blythe
Originally published on | March 22
Welcome back to MECCA Talks, your access all areas pass to the beauty, business, and lifestyle experts we call our community.
In this episode, Kate chats to Stephen de Heinrich de Omorovicza, heir to and founder of Omorovicza, a luxurious skincare brand driven by the magical healing waters found in Hungary.
Stephen and his wife, Margaret, used this mineral-rich thermal water to create The Healing Concentrate™ (formulated by a Nobel prize-winning dermatology lab) to strengthen and heal your skin barrier, giving you a firmer, suppler, younger-looking complexion. It is the key ingredient in each and every one of their bestselling formulas.
In addition to Stephen being a thought-leader in the world of skin, the story of his brand, his family – and his meet-cute with his now-wife – is worthy of a fairytale. Hit play to hear it!