What does the future of skincare and online shopping hold?
January 1 | 84 minute listen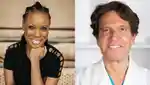 Hosted By Kerri Gordon & Michael Liberale
Originally published on | March 9
Welcome back to MECCA Talks, your access all areas pass to the beauty, business, and lifestyle experts we call our community.
Kate and Zara are looking into the crystal ball of beauty and online shopping, with the help of skincare icon and founder Dr. Dennis Gross, and Google's Global Consumer Marketing Director for Shopping, Stephanie Horton.
After revolutionising the clinical peel and at-home skincare treatments (from his cult-favourite Alpha Beta peel pads to the Spectralite Faceware Pro LED device) Dr. Dennis Gross, of the eponymous brand, is sharing scientific intel on our favourite skincare ingredients, direct from his NYC lab.
Then, Stephanie Horton jumps on the line to talk us through her glass-ceiling shattering career across marketing and eCommerce – from The New York Times to Farfetch, Alexander Wang and Google – as well as how she has overcome imposter syndrome, and now paves the way for women of colour in fashion and tech.