Is waterless beauty the future? Conserving Beauty founder Natassia Nicolao says yes
January 1 | 32 minute listen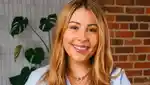 Hosted By Kate Blythe
Originally published on | November 30
Welcome back to MECCA Talks, your access all areas pass to the beauty, business, and lifestyle experts we call our community.
In this episode, Kate is joined by Natassia Nicolao, founder of Conserving Beauty; a Melbourne-based skincare brand famous for their waterless beauty innovations, designed to help your skin while saving water, carbon and waste in the process.
Recently awarded winner of The Australian Women's Weekly's Women of the Future award – and a TikTok sensation courtesy of the brand's dissolving makeup-removing wipes - Natassia is changing the way we create, formulate and innovate in the beauty space. Her approach to skincare, science and sustainability is fascinating! Hit play to hear all about it.