Ever looked at your moisturiser's (or serum's, or toner's) ingredient list and felt engulfed in a wave of confusion?
MECCApedia is here to decode the science, unravel the jargon and give you the knowledge to understand the actives you're slathering on morning and night. Let your skincare education commence!
Plump, juicy, hydrated skin – we all want it. The ingredient to get you there? Hyaluronic acid. This hydrating hero (pronounced hi-uh-ler-on-ick) is like a big drink of H2O for your complexion; a magical moisture magnet that attracts water to the skin and holds it there. While dull, dry, dehydrated skin in dire need of drink will undoubtedly benefit from this water-boosting ingredient, hyaluronic acid can be splashed on at any time for a natural, beaming glow. MECCA's skincare education manager, Lucy Shaw, explains why hyaluronic acid should be in everyone's routine, regardless of your skin type.
Our skin knows and recognises hyaluronic acid…which means it won't shock or irritate your skin.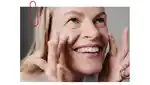 To put simply, it's a water-loving molecule also known as a humectant. Humectants (think: humidity) are masters at attracting and binding water; probably one of the most popular facts about hyaluronic acid is its ability to hold 1000 times its own weight in water – impressive! This means it not only keeps water content within the skin, but when it expands the result is skin that's plump and smoothed.
According to Shaw, our skin is pretty clever. So clever that it produces its own hyaluronic acid to bind moisture and create lubrication, particularly around joints, in the skin and eyes. "As our skin knows and recognises hyaluronic acid, it's very compatible, which means it won't shock or irritate your skin – and it'll be put to good use," explains Shaw.
The benefits of hyaluronic acid (and why to apply it to damp skin)
You might've come across the odd sticky-feeling hyaluronic acid – it's an ingredient that's notorious for feeling this way, which is why it can so easily 'grab onto' water. However, choosing a hyaluronic serum over a moisturiser means it has a better chance of absorbing – and you can apply something else on top to help counteract any tacky feeling.
"The most important thing when it comes to applying hyaluronic acid is ensuring that you don't apply it to dry skin, as it'll sit on the surface and have a reverse effect and draw moisture out," starts Shaw. "Make sure the skin is damp by applying an essence, toner or mist first, then follow with your hyaluronic acid serum; this'll boost its hydrating benefits and trap this moisture for long-lasting hydration."
Hyaluronic acid is ideal for somebody with sensitive skin.
Which skin types can use hyaluronic acid?
All skin types can use hyaluronic acid, especially if you're more on the sensitive side, says Shaw. "Hyaluronic acid is ideal for somebody with sensitive skin as it will help to prevent trans-epidermal-water-loss (TEWL) and therefore strengthen a sensitive skin barrier."
The most important thing to keep in mind with sensitive skin is that its barrier is compromised, so it's important to supplement not only water and water-binding ingredients, but also lipids and oils which help to reinforce the barrier and create a protective water-tight seal. Remember, everyone's skin is different so it is still important to patch test before use.
How to use hyaluronic acid in your routine?
You'll often find hyaluronic acid in serums and moisturisers. If you're using a hyaluronic serum, it should be applied to clean, damp skin before your moisturiser or oils due to its thin consistency. Remember: apply your skincare from lightweight to heaviest (or thickest). Ensuring your skin is moist before you slather on hyaluronic acid is essential (a quick mist is enough), especially for those with dry skin. Why? Because hyaluronic acid works by drawing moisture from deeper layers of your skin towards the surface. So, if you spritz your mist, then apply the hyaluronic product, it attracts and holds moisture from the mist rather than from with the skin.
What can I pair with hyaluronic acid?
Great news – hyaluronic acid is friends with just about every product in your beauty cabinet. But there are a few standout ingredients that when coupled up with hyaluronic acid will supercharge your results. First up for the power couples, Shaw suggests pairing hyaluronic acid with lactic acid: "Lactic acid is similar in that it is water-binding, plus it exfoliates the skin for a refined complexion. If you're oily or acne prone, don't starve your skin of hydration and moisture, all skin types require hydration – and everyone can use hyaluronic acid." Retinol, while notoriously fussy, is another ingredient that has serious chemistry with hyaluronic acid. But! A few things to keep in mind: retinol before hyaluronic; give it some time to sink right in; and use this pairing in the PM only (because retinol should be used in the evening – generally). And for smooth, bouncy skin that looks amazing under makeup – and on its own? Pair hyaluronic acid with hydroxy acids and let this duo work their magic!