Ever looked at your moisturiser's (or serum's, or toner's) ingredient list and felt engulfed in a wave of confusion?
MECCApedia is here to decode the science, unravel the jargon and give you the knowledge to understand the actives you're slathering on morning and night. Let your skincare education commence!
If you want skin that's smooth, even and glowing then you need to exfoliate. Our skin naturally exfoliates itself, shedding dead skin cells and producing fresh and healthy cells every 28 days, but this process can be slowed by things like ageing, hormones and changes in weather. Which is where an exfoliator can help!
Regularly exfoliating can support your skin's natural shedding process, enhance firmness and lessen the appearance of fine lines. And, it can also help your skincare products better work with your skin, since any skincare product applied after exfoliation won't get caught up in dead skin cells sitting on the surface.
There are three main categories of exfoliation: manual (physical), enzymatic and chemical, and each have their advantages and work in different ways. Chemical exfoliation involves the use of acids that dissolve the 'glue' which holds dead cells together. The most common skincare chemical exfoliants are alpha hydroxy acids (AHAs), which include glycolic, lactic and mandelic acids, and beta hydroxy acids (BHAs) like salicylic acid. Now, let's dig into lactic acid.
Lactic acid is one of the gentler members of the AHA family, a group of water-soluble acids that chemically exfoliate the surface of the skin (epidermis) with very little risk of damaging the skin or causing irritation.
AHAs do this by breaking down the bonds that hold dead skin cells together and flaking them off. This in turn helps to increase your skin's renewal process, leading to firmer and plumper-looking skin, and the reduced appearance of fine lines and wrinkles.
When it comes to lactic acid found in skincare, it can be extracted from dairy products, like milk (remember Cleopatra's infamous milk baths?), or synthetic sources.
What are the benefits of lactic acid for skin?
The benefits of lactic acid are many! Right off the bat, skin looks and feels much smoother and brighter, which is what happens when you shift all those dead skin cells that can leave your complexion looking and feeling rough and dull.
In addition to being a great chemical exfoliant, lactic acid is also a humectant. Like other famous humectants (think: hyaluronic acid), lactic acid is able to draw water from the environment to promote a plumper, more radiant-looking complexion.
Bonus: it's also an antioxidant! That's a whole lot of benefits for one humble acid.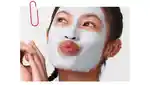 What skin types should use lactic acid?
All skin types can use lactic acid, but with a reputation for being the most gentle AHA, lactic acid is especially beneficial for those who are new to chemical exfoliation or anyone prone to sensitivity.
Each AHA functions differently due to the molecular size, and because lactic acid has a larger molecular size, it works on the surface of the skin, polishing and buffing (and giving extra glow!) so there's less chance of irritation or upset skin.
But of course, whenever you're introducing a new skincare product or trialling an active ingredient, always do a patch test first to see how your skin reacts and start by using it sparingly (once or twice per week) before building up to more frequent use.
How do you add lactic acid to your skincare routine?
If you're new to lactic acid, start on the lower end (around five percent) before working your way up to a higher concentration product (usually up to 12 percent). A cleanser is great to start off with, as a wash-off product, so you can gauge how your skin might react with the acid and whether it will irritate your skin.
Leave-on products, like lactic acid-based lotions and creams, are usually formulated alongside hydrating and moisturising ingredients, which may help to offset the possibility of a reaction or sensitivity. Lactic acid serums are more potent, so use these at night and follow with a nourishing serum or moisturiser.
The strongest lactic acid products are usually masks and peels, so these are only for those who know that their skin definitely likes lactic acid, and they're only for intermittent use (generally no more than once a week!).
And of course, always use sunscreen. This advice never changes, but it's especially important if you're sloughing off layers of skin. You want to give that fresh skin the best shot at living up to its full potential. Protect it at all costs!
Can I use lactic acid on my body
You absolutely can! Using a lactic acid body moisturiser is recommended for anyone dealing with those pesky 'chicken bumps' that crop up on the upper arms and thighs. Lactic acid can help dissolve the build-up that can lead to those bumps, and give you smoother-looking limbs. Just be sure to manage your expectations (it won't make them disappear completely) and use consistently.
What ingredients can you pair with lactic acid?
You can follow up your lactic acid product with ingredients that offer plumping and soothing benefits, like hyaluronic acid, ceramides and niacinamide.
You might also see skincare products that combine two different types of exfoliating chemicals, like lactic acid (AHA) and salicylic acid (BHA). Given the product has been precisely formulated, this combination can be suitable to use. What you can't do is play chemist and mix up your own AHA and BHA products, so steer clear of any kind of DIY!
What ingredients should you avoid when using lactic acid?