Steps to sustainability with Nécessaire and The Wardrobe Crisis
January 1 | 67 minute listen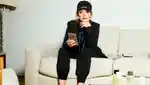 Clare Press & Randi Christiansen
Originally published on | August 24
Welcome back to MECCA Talks, your access all areas pass to the beauty, business, and lifestyle experts we call our community.
In this episode, Kate and Zara are joined by sustainability educator Clare Press, as well as Randi Christiansen, the co-founder of cult body care brand Nécessaire.
As the fashion and beauty industries become more conscious and sustainable, we thought we'd bring in the professionals to share the steps they're taking to leave a smaller footprint on the Earth (and a brighter impact on our day-to-day), as well as the tweaks we can make to be kinder to our planet via our wardrobes and beauty routines.
From 03:42, Clare shares her experience becoming Vogue Australia's first sustainability editor (a role she held from 2018 – 2020), discovering – and uncovering – the fashion supply chain, and going on to educate and empower others to better understand their wardrobes.
Then from 32:44, Randi talks Kate through her career as an executive in the beauty industry, and how that – alongside her Scandinavian origins – led her to develop the climate-neutral, plastic-neutral, vegan, recyclable-packaged, skin-loving and eminently Instagrammable 'It' brand that is Nécessaire.