As our fragrance expert Laura Curtis explains on the MECCA Talks podcast, our sense of smell ignites our memories and emotions, making it one of the most powerful and personal of the five. It's what makes fragrance a personal (and important!) beauty purchase.
One of the most innovative and intriguing fragrance brands on the scene is Vyrao, the brainchild of Australian-born Londoner, fashion icon and Reiki trainee, Yasmin Sewell. With Vyrao, Sewell takes Curtis' words to a whole new level, harnessing the power of scent into a New Age fragrance brand that fuses creative energy with master perfumery. She calls it "high vibration fragrance".
For the astrology-guided, tarot-reading, meditative-types, you're going to fall in love with the energy and design of the bottle, each with a charged Herkimer diamond. And for the skeptical? Keep your mind open to a collection of great, modern scents (in exceptionally beautiful packaging).
Here's everything you need to know about our top five Vyrao products.
Come for the pretty pink wax (it's a combination of coconut and mineral wax) and white porcelain ceramic vessel (definitely a keeper!), and stay for the scent: a lush blend of rose (for love), patchouli (for grounding), guaiac wood (for energy clearing) and violet leaf absolute (for self-expression). This large candle will add a touch of sophistication to any outdoor gathering you're hosting.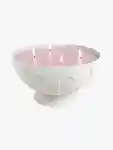 With rare Moroccan orris absolute, grounding patchouli, nutmeg, frankincense, opoponax and musk, this scent feels cauldron-brewed. Like a spell for courage and creativity, its earthy, aromatherapy-esque notes help inspire you to alleviate stress and clear your mind, negating creative blocks and self-doubt.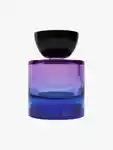 A fresh, green elixir designed to revive and elevate the spirit, I Am Verdant is Vyrao's hero scent. Italian bergamot, uplifting cyclamen and illuminating frankincense give the fragrance a mossy, citrussy disposition, softened by base notes of cleansing iris absolute and orange flower. A positive, free-flowing release, I Am Verdant is a big sigh of relief (and new beginnings) in a bottle.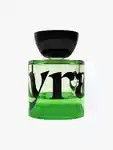 Birch tar, cedarwood and frankincense come together in this sharp, woody and smoky scent. With a bamboo stick core and aromatic-spiked bamboo powder, these slender incense sticks (chic!) offer the lowest possible amounts of smoke, which means a purer, more potent scent experience. Use it to clear a space of negative energy, and welcome and amplify those positive vibes.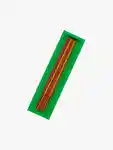 Can't make up your mind? Well, you don't have to. This collection brings together Vyrao's five signature scents, in travel and handbag-friendly sizes, so you can get your mood-boosting fix on the fly. There's
I Am Verdant
(transformation),
Free 00
(liberation),
Witchy Woo
(creativity),
Magnetic 70
(attraction) and
Georgette
(self-love). Just pick your vibe and mist with abandon.