With over 19 million Instagram followers, Anastasia Beverly Hills is one of the most beloved beauty brands on the planet. Here, founder Anastasia Soare reveals her unique approach to the business of brows.
Anastasia Soare's client list reads like an Oscars red carpet lineup, but she didn't start out in Hollywood's upper echelons. Raised in Romania, she emigrated to Los Angeles at 32 and began working as an aesthetician. Spying a gap in the market for brow-specific treatments and products, she rented a room to hone her craft. Her technique, gleaned at art school, was based on the Golden Ratio, the idea of aesthetically pleasing proportions adopted by DaVinci and other artistic greats. Cindy Crawford and Naomi Campbell were among her earliest clients and in 1997 the Anastasia Beverly Hills salon was made a reality. In 2000, she debuted a collection of brow-specific products (a relatively sparse category at that time). Now the ABH line stretches to complexion, eyes and lips, all available online at MECCA.
Beauty is about balance and proportion, not perfection.

You discovered the Golden Ratio at art school. Does it work for all face shapes?
AS: "Absolutely. Beauty is about balance and proportion, not perfection. The Golden Ratio uses a set of three measurements that individually tailor the shape of a person's
brows
to their unique bone structure. When your brows are in balance with your face, it gives a sense of aesthetic harmony."
Your brand has achieved lots of firsts. You were one of the first to regram follower content and you were an early adopter of influencers. How did you know these initiatives would become so critical?
"Through social media, we realised we could have this previously unparalleled reach. When we first started, we would travel to retailers to educate people on brows and how to use our products, speaking with maybe 100 people in a day, 150 tops. But once we got onto Instagram, we quickly gained traffic, garnering thousands of likes and completely eclipsing the amount of people we could reach in person. We sent out products because we wanted people to experience the quality of what we were creating firsthand and then share that knowledge with their own fan base. And we regrammed content because we loved sharing their work. I think our followers truly feel as though they are part of a community."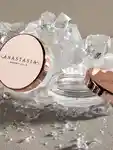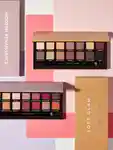 You've long been a sponsor of RuPaul's Drag Race. What inspired that collaboration?
"My daughter Norvina and I watched the show from the very beginning and we were immediately taken with the sheer talent of it all - the transformation, the creativity, the artistry. We were inspired.
Makeup
has this incredible, metamorphic power. It allows you to embrace another version of yourself, maybe even a truer version. We wanted to support and celebrate them so we jumped at the chance to be patrons of artists exploring that concept."
In terms of your starry clientele, who do you work with regularly?
"I've worked with so many incredible people and I'm honoured to call many of them my friends. Some of my steady clients include Oprah, Jennifer Lopez, Naomi Campbell, Victoria Beckham, Amal Clooney, Kim Kardashian, Kendall Jenner, Sharon Stone, Rita Wilson, Heidi Klum, Amber Vallarta, Ryan Seacrest, Eva Longoria and Michelle Obama. A few weeks ago, I shaped the brows of the beautiful Janet Jackson. I never know who will be next and I enjoy every moment."
Whose brows would you like to get your hands on?
"Brows I would love to shape? Meghan Markle's."
What's the one ABH product you wish everyone owned?
"
Brow Wiz
. I never leave the house without it in my bag."
Is there a difference in brow styles between LA and NY?
"Currently, the biggest trend I see is a move towards individuality and I think that's true regardless of location. There used to be a one-size-fits-all mentality when it came to beauty and as that narrow definition disintegrates, it gives way to finding beauty in your own way. I think it applies to brows as well and the Golden Ratio is rooted in this concept."
What are your thoughts on brow tattoos? Any other trends you're not a fan of?
"I like to stay away from anything that's too permanent. [When it comes to] makeup and
skincare
, if you can't wipe it off at the end of the day, or if it requires downtime, then it's probably too invasive for my taste."
Which products do you use when you want to feel your best?
"Even if I'm short on time, I'll focus on my brows, lashes and a
lip colour
to feel instantly put together."
What's involved in your nightly skin care routine?
To what do you credit your phenomenal success in business?
"Never giving up, and never taking no for an answer."