Shiseido's collection of skincare is filled with so many gems it can be hard to choose. So, we asked a MECCA skin expert to share her top five favourites.
Lucy Shaw approaches her job with the insight of a teacher, the curiosity of a scientist and the zeal of a cheerleader. As MECCA's skin whisperer, Shaw is a master of moisturisers, a devotee of devices and a sage when it comes to serums, scrubs and sheet masks. Her latest skincare obsession? Shiseido.
We asked Shaw to nominate her top five skincare products from the Japanese powerhouse, and no matter whether her recommendations are used individually or curated as a regime, they have the potential to reinvigorate your skincare routine.
This supercharged daily moisturiser is a powerhouse, tackling the appearance of fine lines and wrinkles with the brand's cocktail of proprietary actives that work on skin from the inside out (clever!). The silky cream blends algae (three, in fact: green, brown and red) to assist in
strengthening the skin's barrier
, and yuzu seed extract to lend some moisture. If the sound of firmer, more radiant-looking, and less-visibly-lined skin sounds good to you, then you'll want to add this to cart
immediately
.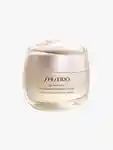 What is a softener? A key step in Japanese beauty rituals, these silky emulsions prep and plump skin before your

serum
application. "I use it every morning and evening after cleansing," Shaw says. "Because of their generous size I feel like I can be more liberal with softeners. I drench my skin in them before applying other products, focusing on the delicate neck area and décolletage." Shaw's softener pick is infused with a cocktail of actives derived from Japanese ingredients. "It uses enmei herb, which helps to heal and regenerate skin."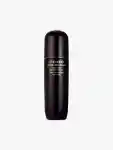 After softening comes strengthening. This in-demand serum, suitable for all skin types, helps bolster skin against daily damage. It's fortified with
antioxidant-rich
extracts of reishi mushroom and iris root, so that skin can better protect itself from the visible signs of ageing. "We constantly focus on our inner health and immunity but the same applies to your skin," says Shaw. "This serum improves the way your skin functions, the way it defends itself against pollution and other external factors, and also how quickly it bounces back when something goes wrong." The airy formula means it can slip easily into an existing routine and function as a booster for other serums.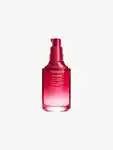 If you're searching for a new cleanser designed for
oily and blemish-prone skin
, this refreshing foaming formula is instilled with purifying granules to lift away sebum, impurities and makeup. "It's a bit of an unsung hero in the Shiseido skincare lineup," says Shaw, who is impressed by its ability to cleanse deeply without stripping skin. Botanical ingredients including rice germ oil and peony root to ensure your complexion feels hydrated after use. "I love that I get the benefits of a balancing and moisturising cleanser with the clean-feeling consistency of a foam," she adds.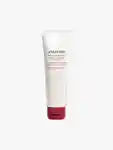 Dark spots don't stand a chance against this potent brightening serum. It pairs a lightweight texture with heavyweight technology to help even out skin tone in multiple ways. Shiseido's patented ReNeura Technology+ works on discolouration that has already come up, while white sand lily extract helps to reduce future dark spot formation and appearance. The result? Beautifully even and translucent-looking skin.