D-Bronzi's champagne-hued little sister is here; does it live up to the hype? Four MECCA team members put their face on the line to find out!
If you're anywhere near as beauty obsessed as we are (and we know you are!), there's a high chance that Drunk Elephant's D-Bronzi™ Anti-Pollution Sunshine Drops occupy a spot in your everyday beauty bag – or on your MECCA wishlist. A pioneer when it comes to skincare-meets-makeup, this bronzing serum is acclaimed for delivering a sun-soaked, just-back-from-holiday glow to beauty lovers the world over. The drops reached new levels of sell-out success earlier this year after being revealed as a staple in the routine of 'It girl' Alix Earle, with #DBronziDrops currently sitting at over 165 million views on TikTok.
And now, Drunk Elephant is back with a highly anticipated new *drop*: the
B-Goldi™ Bright Drops
! A golden addition to their lineup of skincare-makeup hybrids, you might be wondering how this launch could possibly capture the same magic as the original. Spoiler alert: it might just be even better!
To find out everything you need to know about this new launch, we enlisted MECCA Beauty Board member and Makeup Education Manager Hannah Daniels to apply the B-Goldi™ drops on four MECCA team members of varying skin tones and types. Want to know what it looks like, how it benefits your skin and our expert's application tips for a flawless glow? Just scroll down...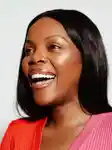 As seen on Zama, MECCA's Senior Strategy Manager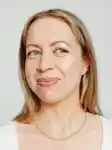 As seen on Meagan, MECCA's In-House Counsel
While we all love the bronzed tint delivered by the original D-Bronzi™ drops, what makes them so unique is their all-in-one nature. Skincare benefits? Tick. A makeup-like appearance? Tick. Customisable and versatile? Tick and tick! And just like their predecessor, the B-Goldi™ Bright Drops pack a punch...

First, lets start with the skincare benefits. B-Goldi™ promises to deliver a smoother, more radiant complexion – long after the glow fades! That's thanks to the supercharged skincare ingredients swiped on with every drop. Think: 5 percent niacinamide to bolster your skin barrier and even out tone, diglucosyl gallic acid and mulberry extract to soothe and brighten, plus squalane and marula oils to moisturise and add a nourishing glow.

And as for the makeup-like effect that sets this apart from other skincare serums, B-Goldi™ takes on the role of a liquid luminiser, with a soft, golden glow that's flattering on every skin tone. Hannah described her first impression: "I was immediately impressed by how it created a very sheer, natural-looking shine. The particles in this serum are super fine, so it gives the skin a true sheen rather than a glittery look."

Compared to Drunk Elephant's other serums, the new launch takes out the win for Hannah when it comes to adaptability: "I think B-Goldi™ is the most versatile of the three! I would use D-Bronzi™ Anti-Pollution Sunshine Drops underneath my complexion products if I wanted to balance colour or give additional warmth, and I would focus O-Bloos™ Rosi Drops just on the cheeks as a blush. In contrast, I think B-Goldi™ can really be used in any way – under makeup, mixed into your base products or placed like a highlighter on top of your makeup."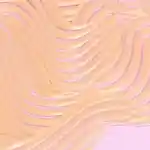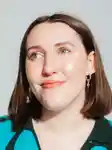 As seen on Sam, MECCA's Junior Sub-Editor
"You can mix it with other products, use it on its own or just have fun with it. It truly is mistake-proof!"
Hannah Daniels, MECCA Beauty Board member
So, how do you apply the B-Goldi™ Bright Drops? To start, she recommends "applying underneath your foundation or skin tint for an all-over glow." When applied like this, the drops can act like a primer, creating a base of hydration and luminosity for any products you apply on top.

To take it to the next level and achieve the kind of reflective glow seen on Team MECCA's cheeks, Hannah recommends "layering a little on the highest point of the cheek, just above the tail of the brow and on the cupid's bow – basically wherever you would normally use highlighter." Bonus tip: Hannah used a brush here to lightly stipple the product into our cheeks, but feel free to use your fingers, too.

But don't stop there! "Take it across your décolletage and shoulders, especially as the weather warms up. And remember to pair it with a liquid blush for an even more radiant finish."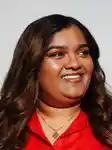 As seen on Khayshie, MECCA's Inclusion and Diversity Lead
According to Hannah, if you're not wearing makeup, "Mixing it into your moisturiser is a great way to get started using this." It's the perfect addition to your Drunk Elephant 'skincare smoothie'. In case you're unfamiliar with the philosophy, each of the brand's serums, creams and oils is specifically designed to be mixed together to create a one-and-done routine to target your skin concerns. Simply blend 1 – 2 drops of B-Goldie™ in with your morning moisturiser and prepare to get compliments on your luminous skin, all day long!

It's this kind of customisation that makes these drops perfect for everyone, Hannah says: "Because it can be used in so many different ways, this can really work on all skin types and tones (yes, oily included!). You can mix it with other products, use it on its own or just have fun with it. It truly is mistake-proof!"