Clementine Ford on why feminism shouldn't be controversial
January 1 | 53 minute listen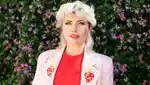 Hosted by Kate Blythe
Originally published on | October 12
Welcome back to MECCA Talks, your access all areas pass to the beauty, business, and lifestyle experts we call our community.
In this episode, Kate is joined by fearless feminist writer, broadcaster and speaker (and skincare enthusiast!) Clementine Ford.
A social justice champion and challenger of cultural norms and ideas around gender equality, marriage, female happiness and public health, Clementine is a true thought leader, and, as per her first book, the ultimate example of 'Fight(ing) Like A Girl'.
In the week of the International Day of the Girl's 10th anniversary, Clementine talks about the inequalities women and girls face from childhood through to adulthood, her 'coloured history' as a social commentator, reframing her perspective on beauty and challenging the concept of marriage, as she plans to explore in her upcoming book, 'I Don't'.
Listen, take note, and speak up!